Why are patients forced to be tethered to their IV poles? 
This brings the question of, can there be a more empowering method for IV treatment?
There is a clear need for innovation in the infusion space. 
The IV pole has not had any significant redesigns in over 80 years.
Research shows that 1 in 5 people have an Auto-Immune disease that requires treatment of either injection or infusion. 
Understanding there are two primary stakeholders. The user providing care & the patient receiving care. 
Interviewing the caregivers allowed for crucial background on understanding the space and its pain points. 
Nurses & doctors prefer hardware that has no tech constraints. Confirmation that innovation in this space would be incredibly beneficial and has been thought about before!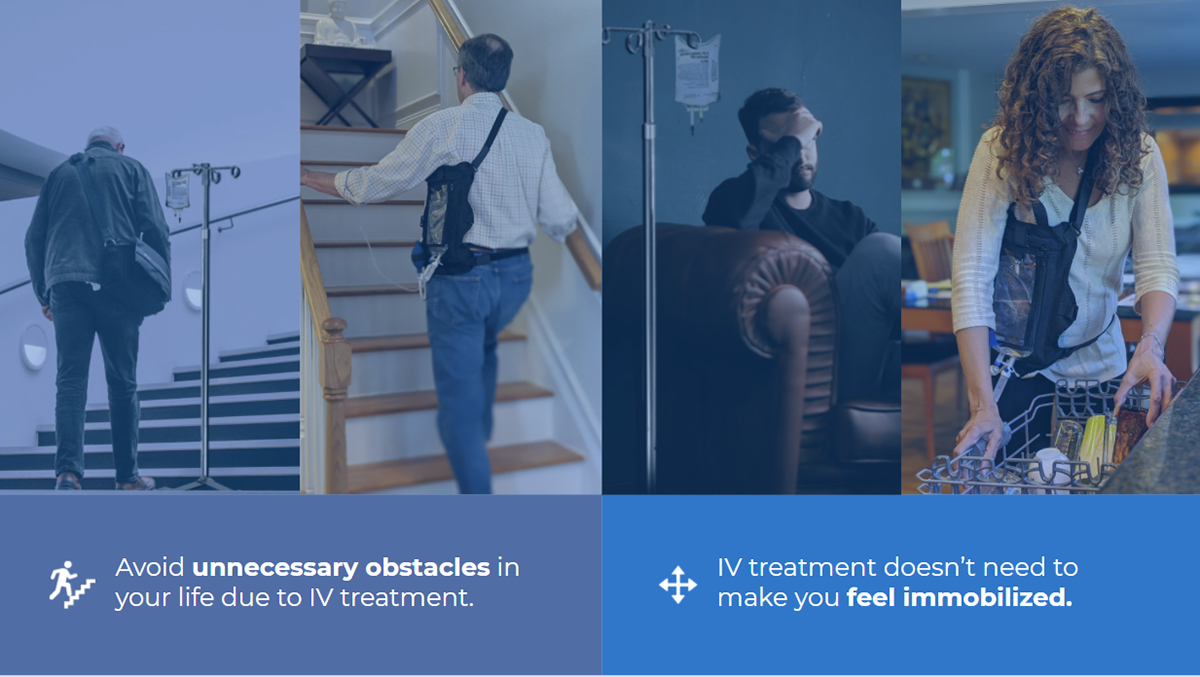 After speaking with patients themselves, it was clear that mobility was a crucial pain point that needed to be addressed. 
This not only immobilized the patient from traversing day-to-day tasks but also felt the patient feel even sicker being tethered to their IV pole. 
- Highlight key interaction points
After sewing and testing 7 different versions of the prototype we were able to gather together with volunteers that had been or were currently going through IV treatment. 
They were able to try putting our device on, describing how they felt going through the process and how it compared to their day-to-day treatment routines. 
This exposed further pain points and improvements that helped finalize the design to make it what it is today.  
The final design accounted for all stakeholders:
- Versatility for the caregiver. Works with all existing equipment. No batteries are needed.
- Comfort & Mobility for the User. Easy to access & monitor but out of sight when you don't need it. 
Researched and analyzed the infusion space to best identify all possible use cases.